GaborComp
Gabor Filter, Complex
Browse model output
Summary
References
Movshon JA, Thompson ID, Tolhurst DJ (1978)
Receptive-field organization of complex cells in the cat's striate cortex. J Physiol London 283:79-99.
Jones JP, Palmer LA (1987) An evaluation of the two-dimensional Gabor filter model of simple receptive fields in cat striate cortex. J Neurophysiol 58:1233-1258.
Stork DG, Wilson HR (1990) Do Gabor functions provide appropriate descriptions of visual cortical receptive fields? J Opt Soc Am A 7:1362-1373.
Touryan J, Lau B, Dan Y (2002) Isolation of relevant visual features from random stimuli for cortical complex cells. J Neurosci 22:10811-10818.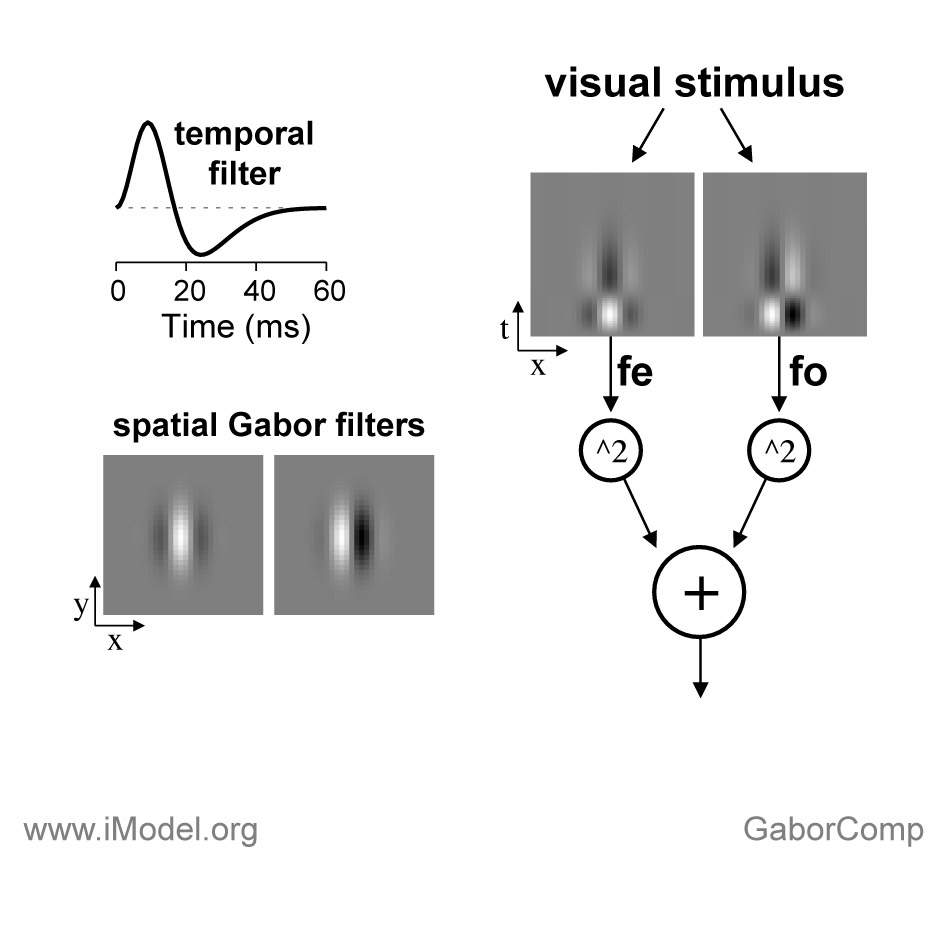 The biphasic temporal filter (upper left) is the difference of two Maxwell functions. The temporal filter is multiplied by the spatial Gabor functions (lower left) to produce the 3D spatio-temporal filters (cross-sections shown at upper right).
The visual stimulus is processed (convolved) by two space-time separable linear filters and the outputs are squared and added (right). The result is scaled and used to drive a Poisson spike generator, and a temporal delay is added to the spikes to simulate visual response latency.